Planning a wedding is an exciting journey filled with countless decisions on how you can create a truly memorable occasion for you and your guests. One of the key elements that can set the tone and elevate your special day is your wedding stationery. In the UK, the luxury wedding stationery market has been thriving, with more and more couples wanting to create more curated weddings that are a stylish reflection of their celebrations! Stationery offers couples a wide range of design choices, personalised details and is an excellent visual touch to bring your day together. This blog is your definitive guide to the cost of luxury wedding stationery in the UK in 2023, with a special focus on bespoke creations that elevate your wedding to a whole new level of elegance and sophistication (because that's what we do best).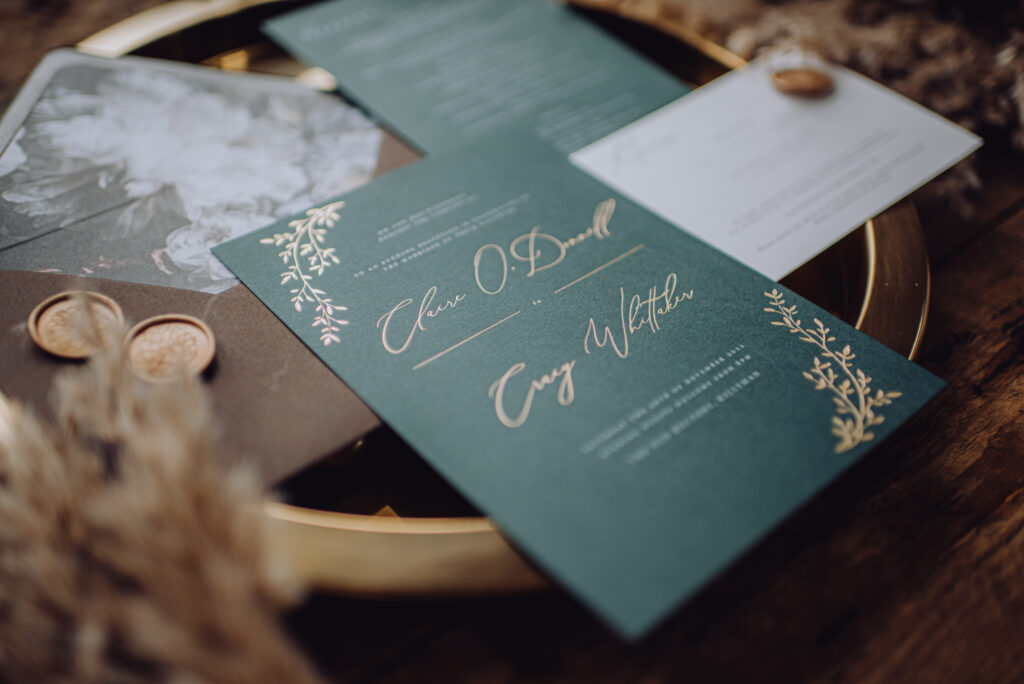 What makes luxury stationery so special?
Luxury wedding stationery goes beyond the ordinary, capturing the essence of your love story and setting the mood for your dream wedding. Crafted with meticulous attention to detail, these exquisite designs reflect your unique style and create a lasting impression on your guests.
Bespoke wedding stationery stands at the pinnacle of luxury. Tailored to your preferences, these one-of-a-kind creations are a true reflection of your personality and style as a couple. From custom illustrations and monograms to hand-calligraphy and premium materials, bespoke stationery adds an exclusive touch to your wedding.
Factors Influencing the Cost of Luxury Wedding Stationery.
a. Design Complexity
The intricacy and customisation of your chosen design play a significant role in the overall cost. Elaborate designs, unique finishes, and intricate detailing require additional time and craftsmanship. The expertise of your designer is key to creating a well executed wedding invitation. Remember, just because it looks simple, doesn't mean it is simple to achieve. Choosing your designer based on experience is crucial to getting the perfect end result when it comes to luxury stationery. I feel confident in advising my clients with their design because I have tried and tested many designs over the years. This is a really valuable part of my service because it allows me to guide you to make good decisions based on solid experience.
b. Materials and Printing Techniques
The selection of premium materials like handmade paper, metallic foiling, letterpress printing, and embossing can contribute to the cost. These techniques lend a luxurious tactile feel to your stationery.
Let's not forget the luxurious embellishments such as wax seals, silk ribbons, personalised envelope printing and envelope liners elevate the overall presentation.
At Two Little Words, we don't ever skimp on high quality materials! Even our house collections are printed using the best quality card stocks and materials! Worth every penny to create a memorable first experience!
c. Quantities
The number of invitations you need can also have a big impact on the overall costs. Print works on an economy of scale so, the more you need the cheaper they are to produce. This can be very apparent for smaller orders wanting premium finishes such as hot foil printing or letterpress. The initial cost to produce these is the same for 30 invitations or 130 invitations meaning costs seem more expensive per invite.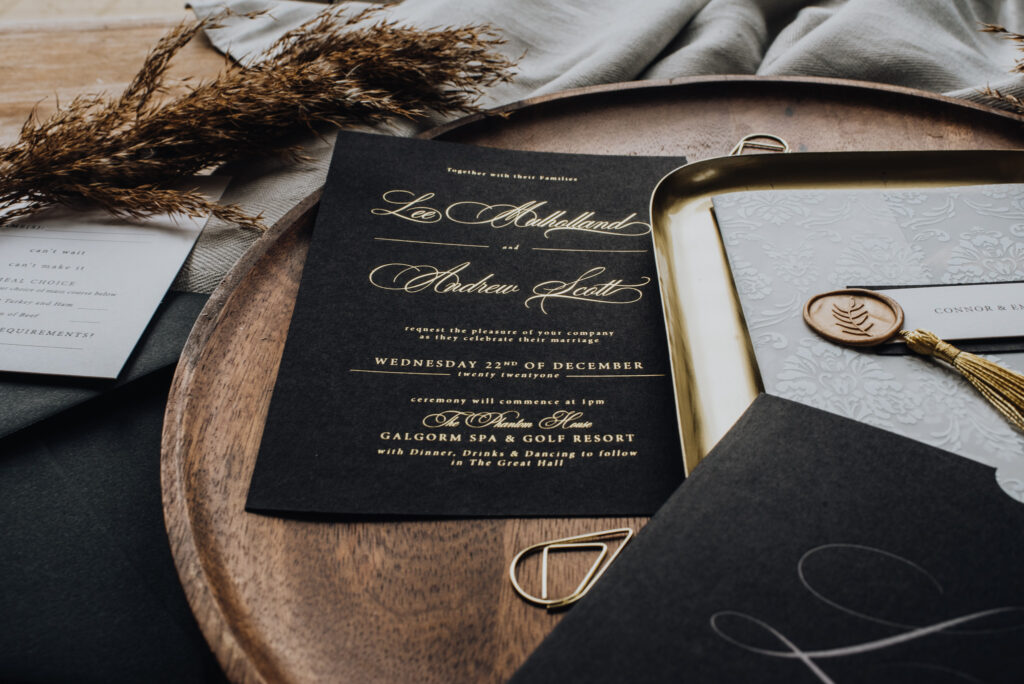 So, how much do these things cost?
Im sorry to tell you that the cost of luxury wedding stationery can vary quite alot depending on the factors above. With Two Little words costs can range from £10 per invitation to £50 or more for intricate designs and premium finishes. It is my goal to be open and transparent about pricing from the very beginning which is why all prices are available on my website here.
If you are searching for the perfect luxury wedding stationery I would strongly recommend the following pointers when trying to find the perfect design and ascertain the costs involved:
Research, research, research – follow designers on instagram and check out their website to see if their style sits yours!
Look for a designer with a cohesive style that fits your aesthetic. Beware of designers with loads of variety of styles, this suggests they are not necessarily designers themselves and are going to be less likely to give good advice on what will work well in print. (disclaimer – this is not always the case)
Check out their prices or request these from the designer directly.
Make sure you consider a design fee which may be additional to print costs.
Check out what is included as standard as part of the process. E.G how many revisions are included in the cost? Is personalisation included or extra, is delivery included etc.
If you have been searching for the perfect wedding stationery and are wanting to create a personalised and luxury vibe for your wedding day, I would love to hear from you! Working with my bespoke clients is one of my favourite things to do because of the love and care that goes into creating the perfect wedding stationery for your special day! To find out more about our bespoke stationery service you can enquire here.
I look forward to hearing from you soon.