A guide to what stationery you need to create a stylish and personal celebration!
A wedding day is a beautiful culmination of love, joy, and personal expression. To infuse your celebration with a touch of elegance and individuality, selecting the right wedding stationery is essential. In this comprehensive wedding stationery guide, we'll walk you through the various stages of your wedding journey and highlight the luxury bespoke stationery items that will add a stylish and personal touch to every moment.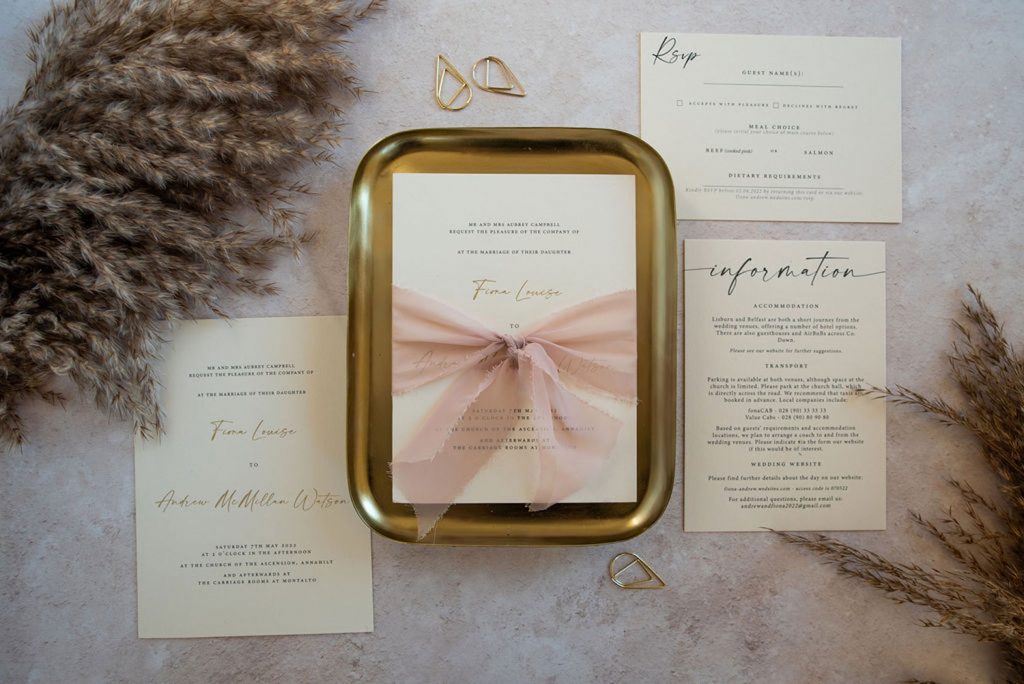 Before Your Wedding Day
Save-the-Dates: These cards are the first glimpse your guests will have of your upcoming nuptials. Luxury bespoke save-the-dates not only announce your wedding date but also reflect your unique style and theme. Don't have a theme just yet – don't panic, keeping Save the Dates clean and classic gives you freedom to explore your style later on.
Invitations: The centerpiece of your wedding stationery, bespoke invitations set the tone for your special day. Crafted with attention to detail, they can showcase your chosen colour palette, design motifs, and the overall ambiance of your wedding. Whether is a full formal affair or a bit of laid back luxury – your guests should know what type of event you are planning when they receive your invitation!
RSVP Cards: These cards allow your guests to confirm their attendance and provide crucial information, such as menu preferences and dietary restrictions. Typically included as part of your invitation suite these can be a physical card or a modern alternative like a website or dedicated email address.
On The Wedding Day
Ceremony Programs: Informative and stylish, ceremony programs outline the order of events, introduce the wedding party, and provide details about any special rituals or traditions. Perfect for religious or humanist services to help guests follow along with your service.
Menus: I love a well dress table-scape and bespoke menus not only inform guests about the culinary delights they'll savour, but also add a touch of sophistication to each place setting.
Place Cards: Ensuring a seamless seating arrangement, personalized place cards add an elegant touch and make guests feel special. A perfect match for a personalised menu!
Signage: From welcome signs to directional signage, and not forgetting a Table Plan – bespoke stationery signs guide guests throughout the venue, creating a cohesive and visually pleasing experience. For extra special signage asking your florist to dress the sign with a posy of matching florals will really take it to the next level!
After The Wedding Day
Thank-You Cards: Express your gratitude with custom thank-you cards that reflect the style of your wedding. Handwritten notes on luxurious stationery are a heartfelt way to appreciate your guests' presence and thoughtful gifts. Sharing a picture from your day is a lovely personal touch . You can print a generic message for all guests but for a truly thoughtful touch – I love a personal handwritten note of thanks for each guest.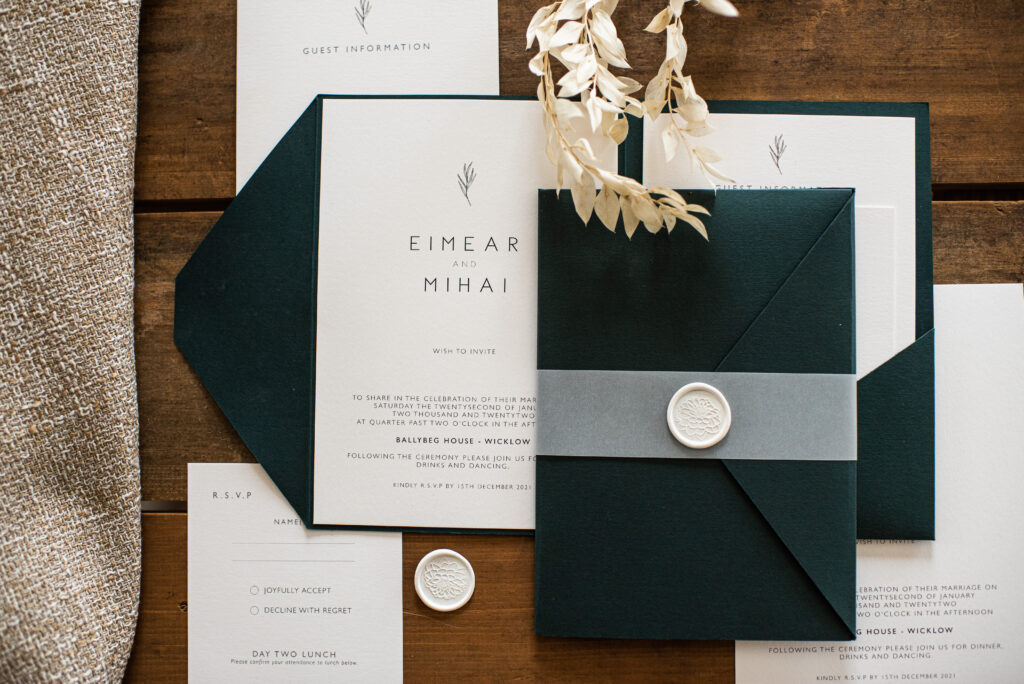 Things to consider for a cohesive Wedding Stationery Suite.
Of course you could think about each item at each individual stage of your wedding planning journey, however it will likely mean you have no cohesive style to your stationery and things are a little confusing for your guests throughout the journey. Having a clear plan early in your journey is key to creating the perfect aesthetic and communicating your wedding style from the very start. Here are some considerations for next level wedding stationery:
Style and Theme: Select stationery designs that align with your wedding style, whether it's classic, modern, rustic, or glamorous. Consult with a bespoke stationer to create a cohesive and visually stunning stationery suite.
Customisation and Personalisation: Luxury bespoke stationery allows you to infuse your personality into every detail. Incorporate custom illustrations, monograms, or hand-calligraphy to create a truly personalized experience.
Quality and Craftsmanship: Invest in premium materials, such as handmade paper, exquisite printing techniques like letterpress or foil stamping, and elegant finishing touches to elevate the overall look and feel of your stationery.
In Conclusion
Hopefully this has given you a clear insight into the stationery items you might want to consider for your special day. Having a clear picture of the stationery you will need not only ahead of your wedding, but on the day and after can really help you plan. Not only from an organisational perspective but for planning your budget and even how you want to build the excitement and anticipation for your day and keep that going after the day itself has finished.
The power of great wedding stationery is greater than you think! For some great ideas you can have a look through our gallery here or keep an eye on our instagram for new inspiration.
That's all for now, tune in for next weeks blog when we will talk about when you should be organising all of these items in real time.