Your wedding day is probably the most personal event you're ever going to plan; it's entirely about you and your story as a couple, and you can use your invitations and other items to help tell that story through thoughtful details. I love creating personalised wedding stationery for my couples that feels completely, unapologetically them.
'But Laura', you might be thinking, 'wedding stationery is already personalised with our names!'. It's true that your names and initials will likely already be on there, and your stationery supplier should also design each piece to work seamlessly with the theming, style or colour palette of your wedding. However, for personalised wedding stationery that's elevated to next-level, couple-goals status, here are 5 details you might want to add!
Custom Wax Seals
Wax seals are an elegant, timeless addition to your invitations that feel truly luxurious and indulgent; they give me serious royalty vibes! I can create wax seals in a range of colours and designs, but for that truly custom experience you can even design your own! This is a simple, inexpensive way to add some personal pizzazz to your letterbox lovelies; consider having your initials imprinted, or a meaningful motif such as your favourite animal or an object that reminds you of when you met.
The best part?
Your guests will be bowled over by the level of attention to detail, and your invitations will look deliciously decadent without breaking the bank!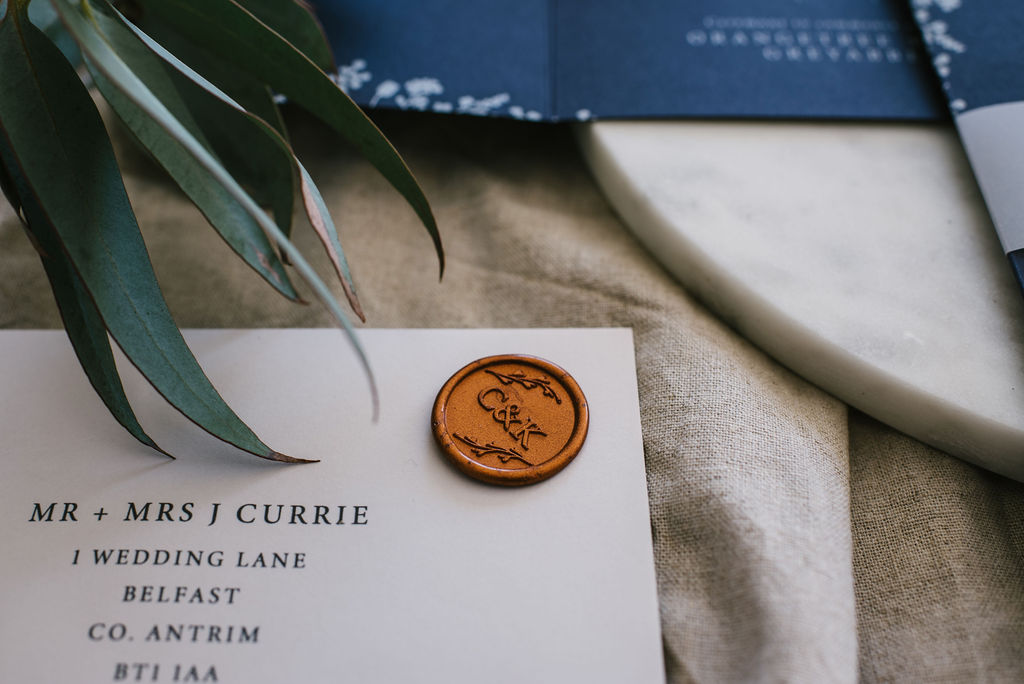 Venue/Location Design
Your wedding venue, location or country has been chosen because it's special to you – including it as part of the design of your personalised wedding invitations is a lovely way to introduce it to your guests, and when you look back on your invitations after the wedding day you'll be reminded of it too! Custom venue designs can be included as part of your stationery when you work with me, whether as an intricate likeness of a church or stately home, or as a striking, hot foiled illustration of your venue.
If you're inviting guests to a destination wedding, build the excitement by including a mini map or outline of the country they're joining you in! The below design was for a wedding in Cyprus, and for this couple I used gold hot foil to create a map and pointed out the exact location of the wedding with a tiny aeroplane design. Elegant, elevated 'travel' theming without covering everything in Air Mail stamps and luggage tags!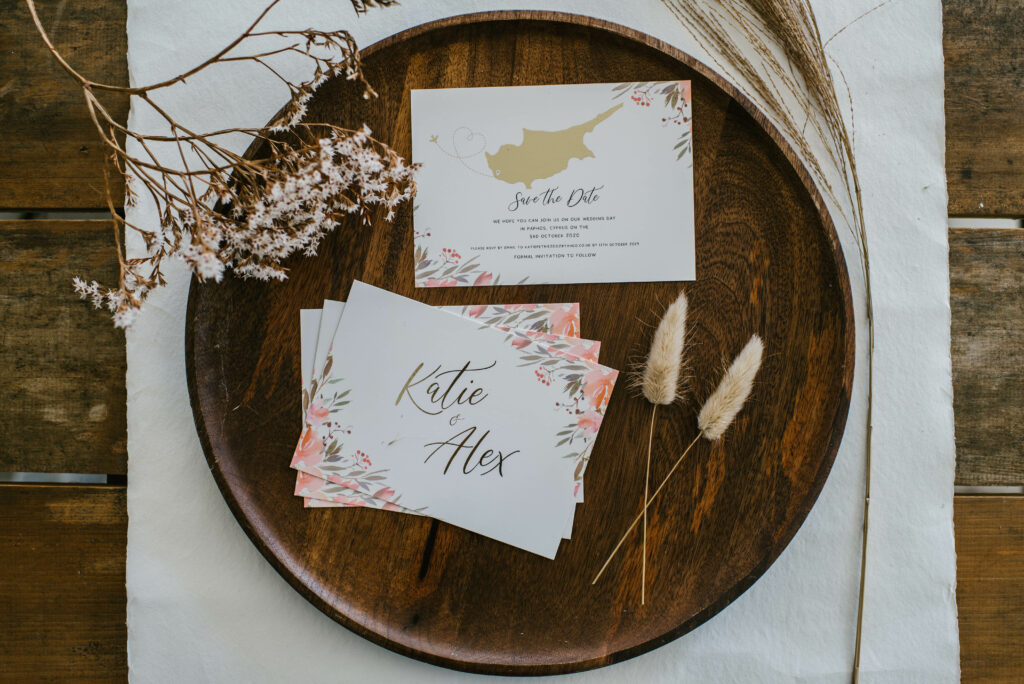 Include Your Guests!
In the name of really taking personalised wedding stationery to the next level, you can include your guests (or some of them, at least!) in some elements. I designed this quirky 'order of service' for one of my couples who wanted to honour their amazing bridal party and groomsmen. It included likenesses of each bridesmaid and groomsman, and a touching personal note to all the guests telling them how much their presence meant to them.
This will mean so much to your guests and show them your appreciation for coming to your wedding; plus, your maid of honour gets her 15 minutes of fame!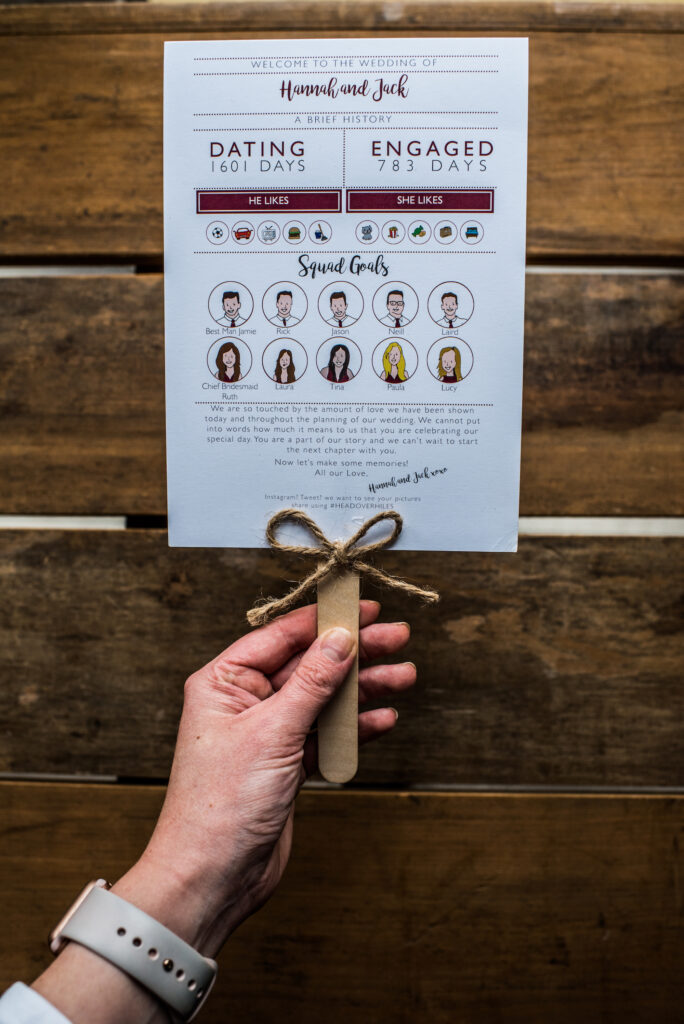 Taking Requests
Speaking of getting your guests involved, why not add a section onto their RSVP card where they can request a song to be played at your wedding!? Ask them to choose something that'll get them ready to boogie, then when the big day rolls around and their pick comes on they're bound to join you on the dancefloor!
Your wedding party will buzz with choruses of 'it's our sooooong!' and create an incredible atmosphere for your guests. After all, great music is one of the things that makes a wedding so awesome!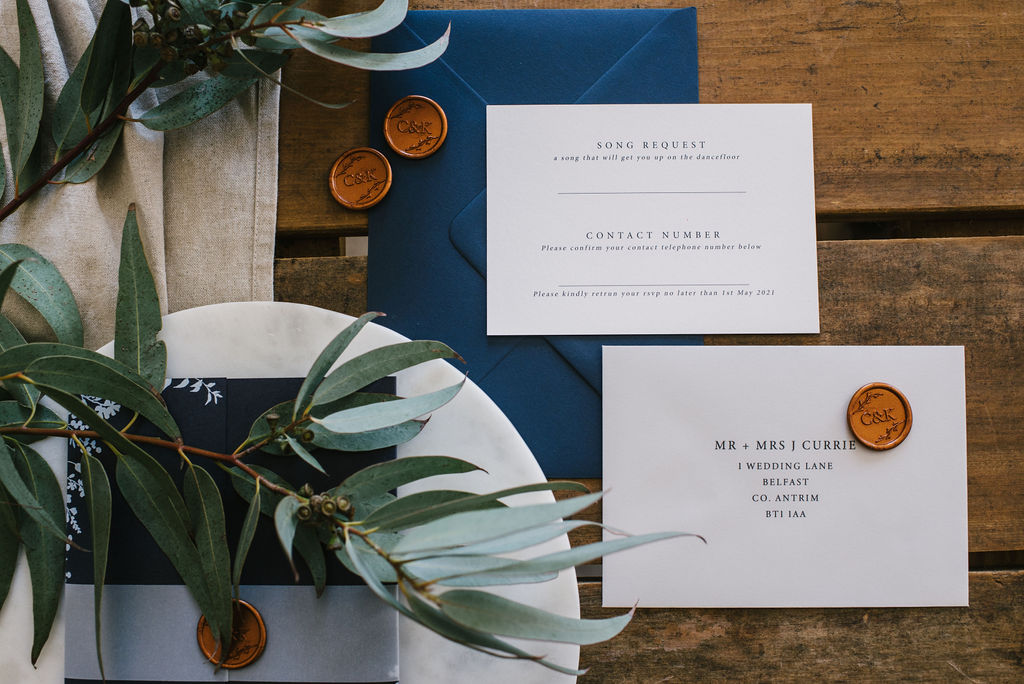 Custom Cocktail Menus
It's becoming increasingly popular now to have custom cocktails created for your wedding day. Instead of having a classic mojito, you might talk to your bar supplier about mixing it up with some different flavours and naming it after you and your beau! If you're opting for some dazzling drinks, it's a great idea to have some stationery or signage designed to tell your guests all about them! A simply-designed cocktail menu containing the names of the drinks and what's in them will attract your guests' attention and have them all talking about what a lovely touch it is, and it can be designed along with the rest of your stationery suite so it all seamlessly ties together!
Every suite of stationery I design is heartfelt and has you in mind! If you're a loved up, laid back couple getting married in Northern Ireland or beyond and your creativity has been sparked by my personalised wedding stationery ideas, head to this page to ask me a question, send me an enquiry, book a face-to-face consultation or order a sample pack!
For more inspiration and to have a nosey at some of my past work, visit me on Pinterest.