4 Easy Steps To Stess-Free Wedding Stationery
There's no getting away from it; wedding planning is tough! You have so many things to think about and it can be hard to make a list of priorities.
If you're anything like me you'll want every last detail to be the perfect reflection of your love. It all starts with (you guessed it) your invitations! As much as I would love your wedding stationery to be top of the pile, you will need a few things first. Once your wedding date and venue are confirmed you can start booking suppliers, and your stationery should be high on your list of priorities. After all, 'a party is nothing without an invitation', right!? With save-the-dates going out 12 months or more ahead of your big day, you don't want to leave this to the last minute.
Without further ado, here are my 4 stress-free steps to planning your way to perfect wedding stationery!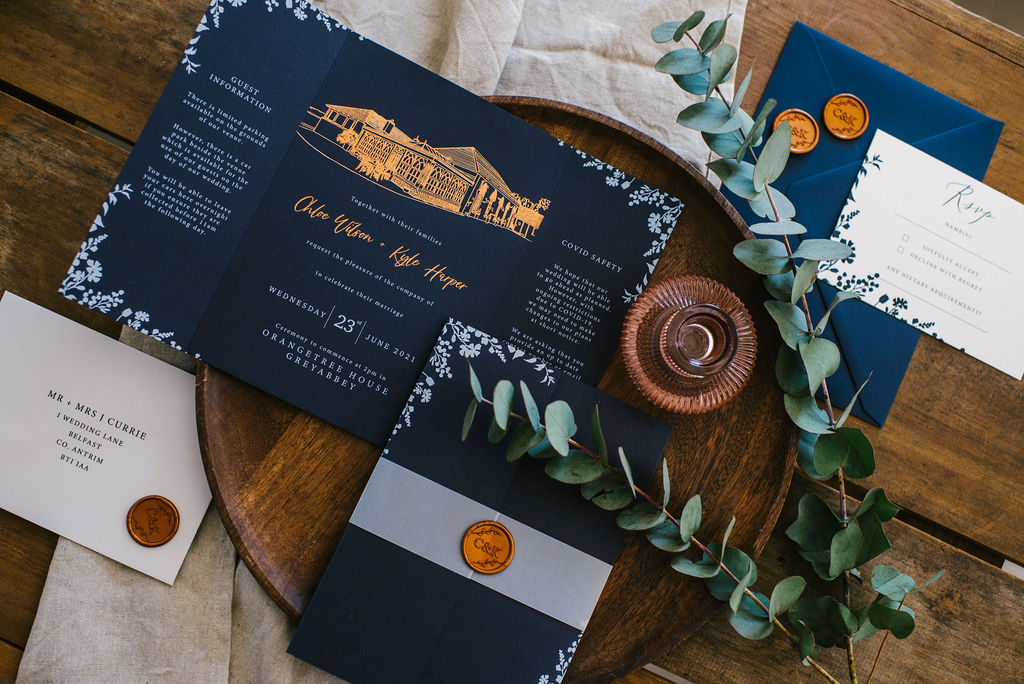 First…
The Guest List
Where do you even start with this!? Well, the first step for planning your perfect wedding invitations is to think about your venue. What is the capacity, and how much is the cost per head? This will help you determine how many guests you can accommodate before putting pen to paper. You can then start making a list of your nearest and dearest to share your wedding day with.
Tip from the expert:
Make 2 lists, one for every individual guest (for on-the-day stationery items such as place settings, table plans and order of service booklets that are one per person) and one for each household, as you'll typically send one invitation per household rather than per guest.
This is something couples often forget when budgeting for stationery!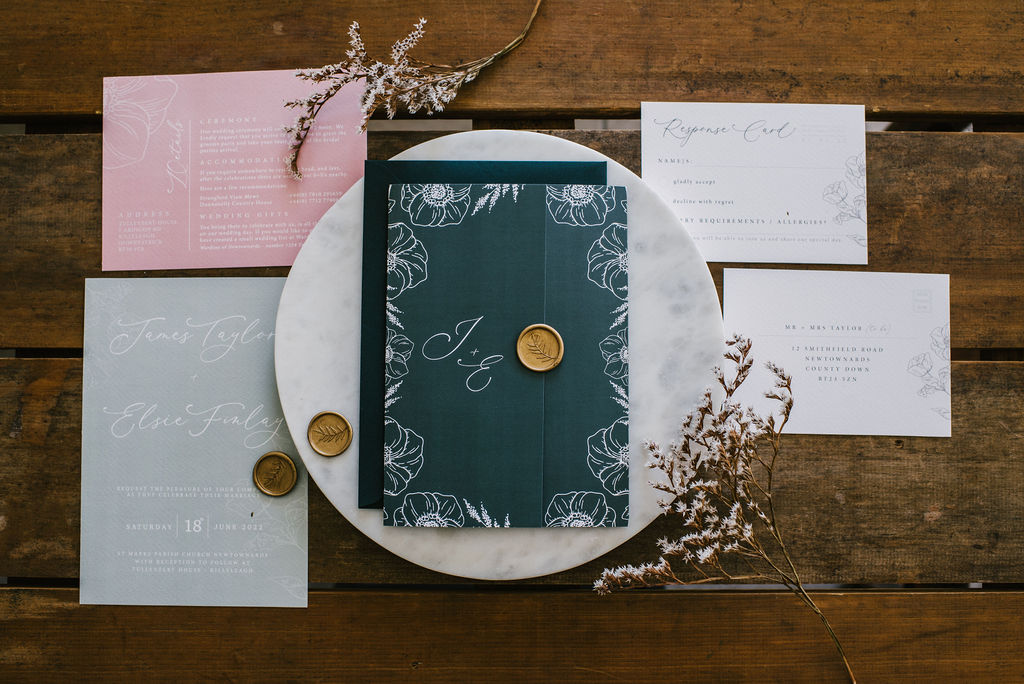 Second…
Budget time!
It's time to talk money. This can be a tough one to crack, because chances are you've never done this before and you just don't know how much these things cost! Having a clear budget for your wedding from the outset can help you to make decisions with more clarity and avoid any uncomfortable situations.
Naturally, as with any element of your wedding, you can spend more or less whatever you want on your stationery –  pass the hot foil please! However, generally speaking your overall stationery costs will be around 10-15% of your wedding budget. This includes everything from save-the-dates and invitations to day-of stationery and thank you cards. See THIS blog post for a full breakdown of everything you might need; perfect wedding stationery starts with an understanding of what you want and when! 
Example: overall wedding budget is £20,000 – stationery spend is approx £2000-£3000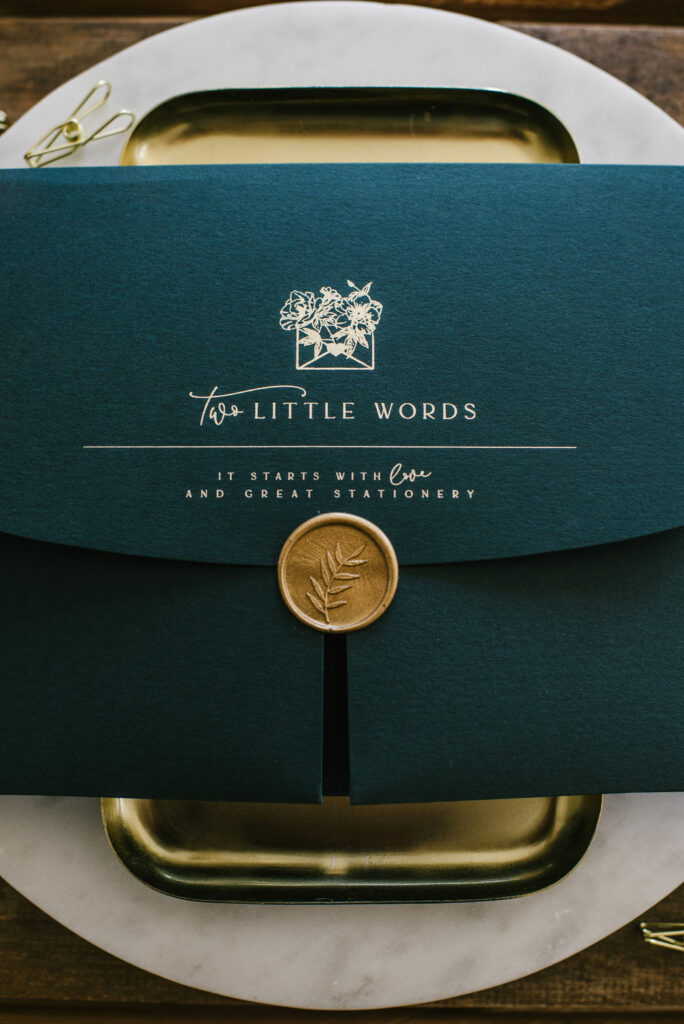 Third…
Style & Design!
Arguably, this is the most fun part. Don't forget that aside from practical and financial decisions, your wedding planning also involves creative and enjoyable aspects! Choosing the design of your stationery is definitely one of them.
Your whole wedding day is a reflection of you as a couple, so when you're sending out invitations and designing your stationery suite you should try and show this. If you have a specific theme or style for your wedding, your stationery should hint at this so guests have a taste of what to expect! For example, a 2-hat tipi wedding with banquet-style catering and foliage-heavy florals will look and feel very different to a modern, industrial-style city wedding with clean lines and bold colours – we don't want your guests turning up thinking they're at the wrong wedding!
I know it's tempting to keep the wedding specifics secret and not give too much away, but it's important that there isn't a big mismatch between the invitation and the day itself. What's more, your invitation is part of a whole suite of stationery which you and your guests may keep long after the party ends – a cohesively designed package will have you looking fondly back on the day and marvelling at how you brought everything together so perfectly.
Click here to read about my design process and see how ideas come to life!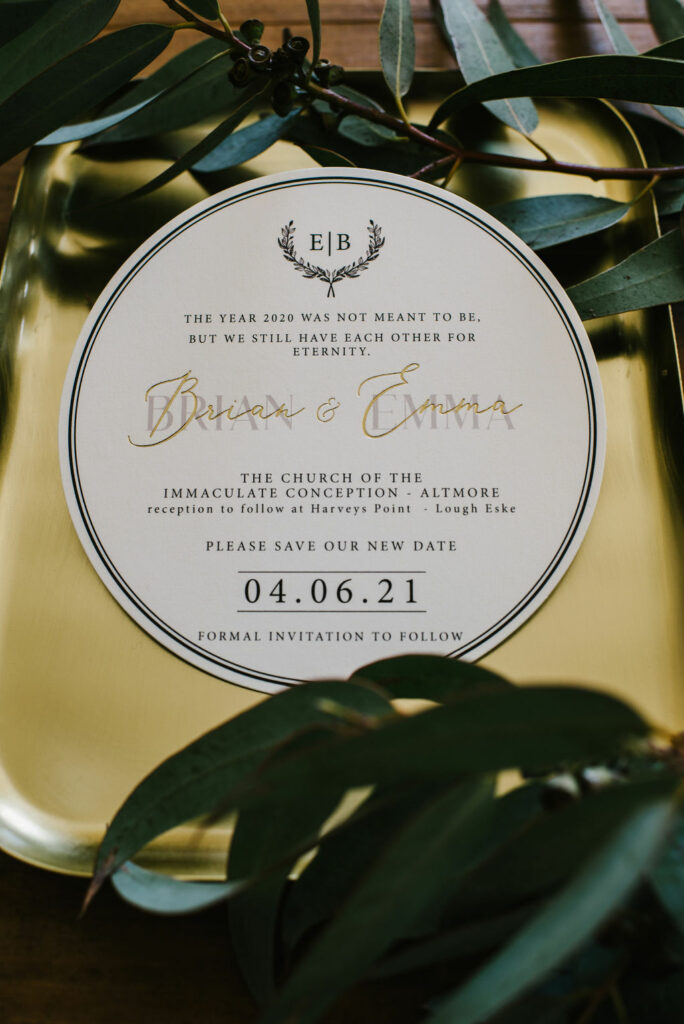 Fourth & Finally…
Timeline!
Don't leave it too late! I've seen it before, you marvel at a supplier and love their work but wait to reach out…then they're fully booked! Trust me when I say this breaks my heart as much as it does yours.
As soon as your venue and date are secured, I recommend reaching out to your favourite suppliers to chat and get booked in. You don't need to have every detail finalised, but reach out and pay the deposit required to secure that booking. That way, you can come back later on safe in the knowledge that your dream team is on board for every aspect of your wedding!
There you have it – 4 simple steps to planning for perfect wedding stationery! If the final point in the process resonated with you and you think I could be the stationery designer for you, get in touch by clicking HERE to book a consultation – I always love to chat about weddings!
Images by Denise Leacock Photography.