Welcome, stationery lovers!
Today's blog is the first in a series of 'top tip' style pieces, where I bring you behind the scenes of my design studio in Northern Ireland and give you a glimpse into some of my favourite wedding stationery features – you lucky things.
This week I'll be showing you 5 simple ways we can work together to elevate your stationery from 'pretty and practical' to 'pure paper perfection'! Let's get stuck in for some of my go-to tricks for truly timeless and elegant wedding stationery.
First things first…

So, you've booked the venue, the catering is sorted and you've maybe even picked out 'THE' dress! After all the hard work and effort you put into the day itself, you'll want to get your guests excited about your day and give them a little taste of what's to come, right?
Your wedding invitations are the first peek your guests will get into your unique day. With a little help from me we can make sure you use this opportunity to set their expectations for the day you have planned, and we all know how important first impressions are!
If it's timeless, elegant wedding stationery you're after, these 5 tips are super simple to implement and give you the perfect wedding invitations to WOW your loved ones and get them super excited for your big day!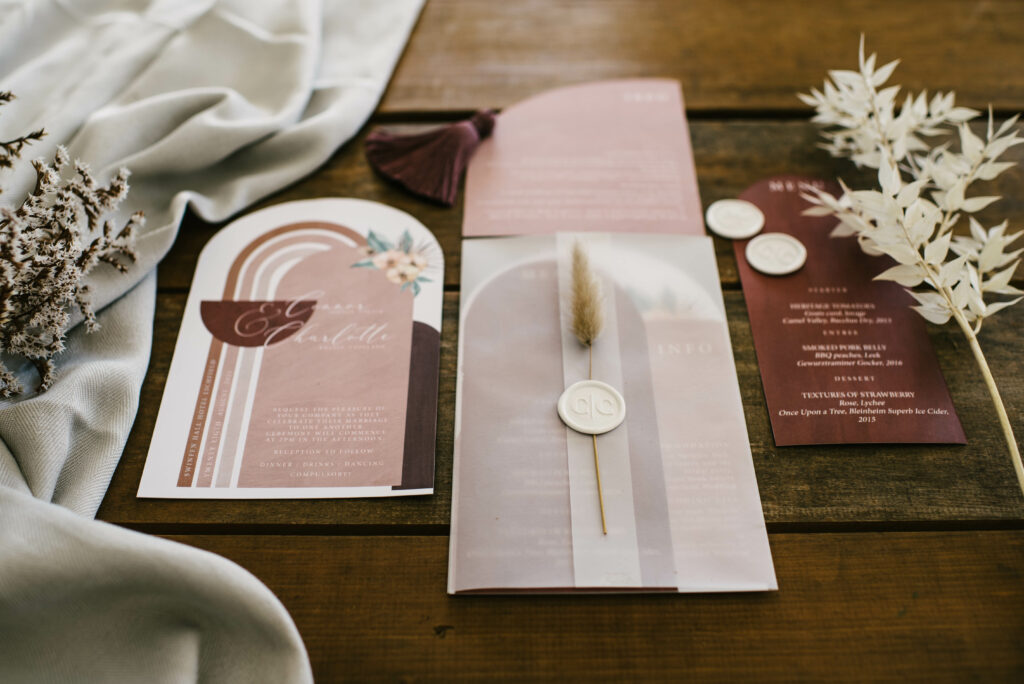 Hot Foil Printing
If you want to instantly take your wedding invitations to the next level, hot foil printing is the way to go. This beautiful print technique allows for metallic print to be pressed into the card, using a metal plate or Die to give a gorgeous pillowy impression, swoon, of your text or illustration for a stand-out finish! The subtle glimmer of foil just adds a touch of class to take even the simplest of designs from drab to fab!
If you go for this you can cross 'elegant wedding invitations' off your list with a big tick! For me, nothing says luxury quite like hot foil.
Venue Illustrations
Another favourite touch of mine is a custom illustration of your venue. Available in either black and white or watercolour, the addition of a personalised venue illustration is the perfect touch to your elegant wedding invitations. A lovely way to invite your guests but also a beautiful keepsake and memory of your day.
I create custom venue illustrations for you from scratch to fit with the other design elements of your wedding stationery, seamlessly tying everything together.
FYI; venue illustrations and hot foil printing are a match made in design heaven!
Details…
Now, as much as the design and print techniques used are important when it comes to creating the perfect, elegant suite of stationery, quite often it's the details that bring it all together! Think of it like this – you've planned a big night out with the girls after lock down and you've found the perfect dress. It's just your style and you love it…but wouldn't it be EVEN better with the perfect shoes, bag, and accessories?
It's exactly the same with your stationery! Sure, your invitations are gorgeous on their own, but paired with the right accessories they are extra special! Without further ado, here are my favourite stationery accessories to elevate your wedding invitations after they have been designed and printed!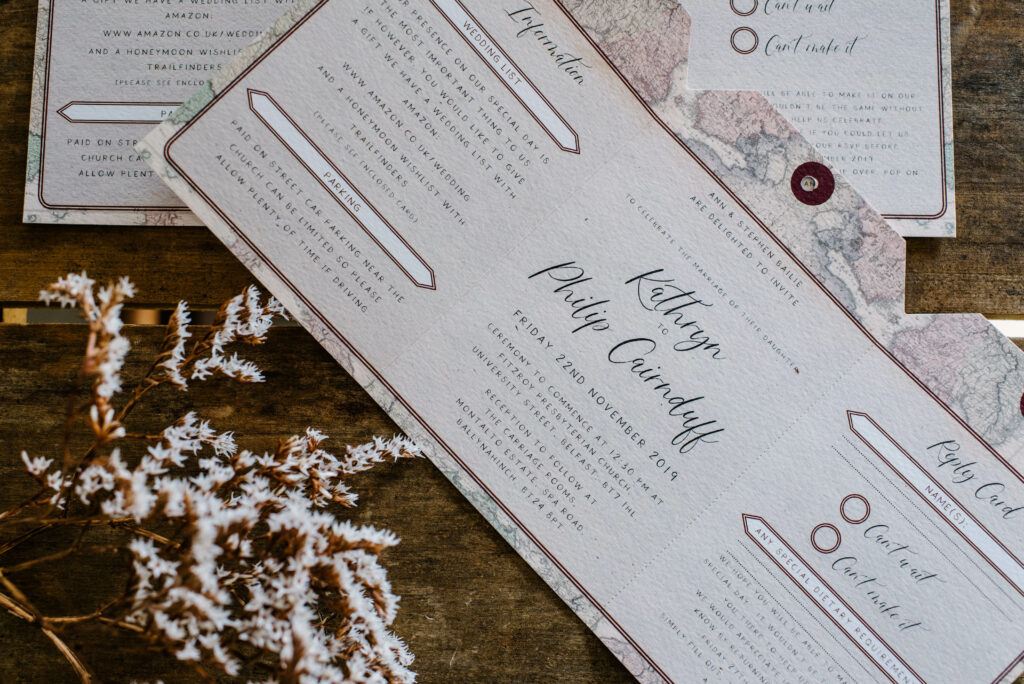 Personalised Envelopes
How special would it be for your guests to receive invitations with personalised printed addresses and beautiful designs inside!? Something as simple as this can transform your entire wedding stationery suite from the very moment it drops onto the doormat, and the excitement can begin! From address printing to a gorgeous complimentary envelope liner, these features give a very professional and polished look – which is perfect for those looking for a bespoke, elegant feel. Not to mention it saves you the hassle and arm-ache of handwriting all those addresses!
Wax Seals
Anybody else reminded of old-fashioned royalty when they think of wax envelope seals? Don't worry, there's nothing old school about these! I love the timeless elegance a wax seal can add to complement a great wedding stationery suite. The options are quite literally endless, choose from a range of colours and pre-made designs, or create your own custom design to compliment your invitations.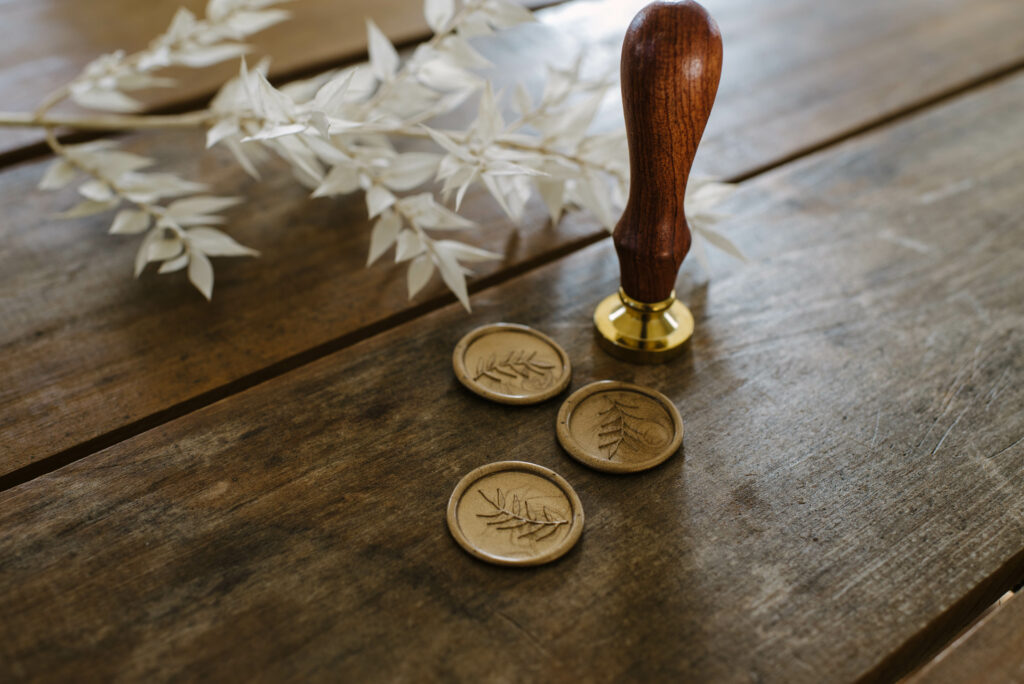 Custom Card Sleeves
Quite often your wedding stationery suite will have multiple items that need sending to each guest; invitations, RSVP cards, maybe even maps and extra information about accommodation. Custom-made in a range of sizes and papers, card sleeves can be personalised with digital print, foil or embossing – these luxury lovelies are pretty and practical, and will help bring all the elements you've thought about so carefully into one luxury wedding stationery parcel!
This is also a great option if you want things all neatly assembled but you aren't keen on the fuss of ribbons or ties!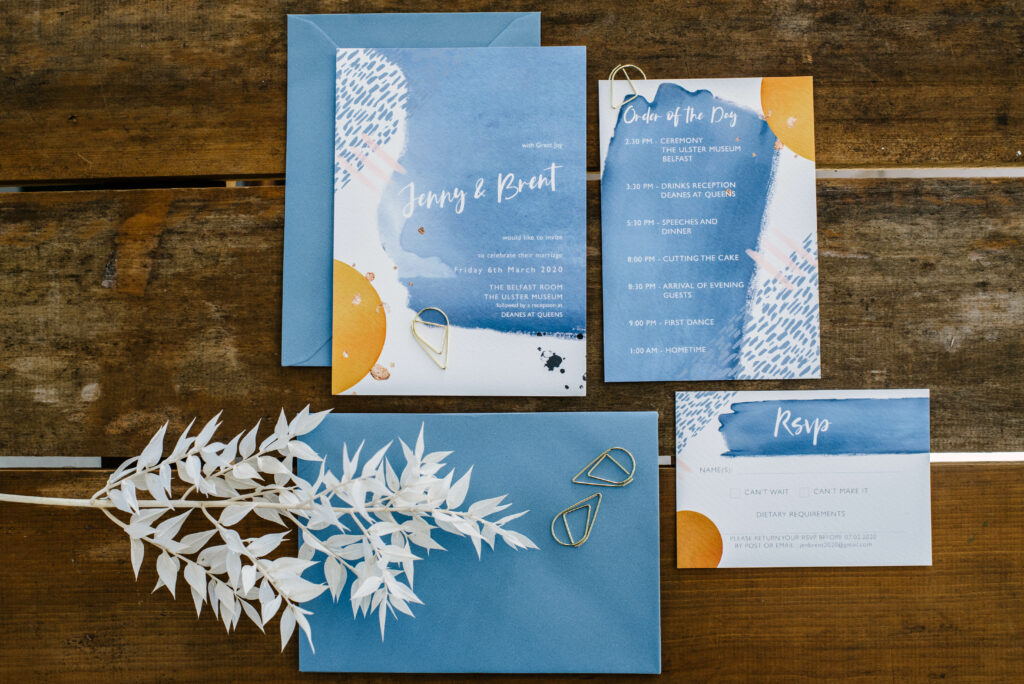 Attention to detail…
That's all my favourite tips for today, but to say we have barely scratched the surface is an understatement! If you've read all about the Two Little Words story, you'll know that attention to detail is sort of my thing. All the techniques and finishing touches I've told you about today provide that extra level of personality and polish, helping you achieve a timeless and elegant wedding stationery suite that will cohesively run throughout the design of your day. The best part? They're simple changes that make a big difference!
I'll have more tips and advice for you soon on how to get the best out of your on-the-day stationery too – watch this space!
If you like the sound of all of the above, take a look at my enquiry page to see how you can get in touch with me and chat about all things stationery (I could do this all day!), or order a luxury sample pack to see what you could be getting when we work together.