You've probably noticed by now that wedding planning feels like one big guessing game of when you should decide, book, send and prepare for each element of your day. It can be especially hard to know what stationery you need for your wedding (and what's even included in that broad term anyway!?), and it can be different depending on how far in advance you're making plans and what those plans are.
Fear not! I've got you covered with my wedding stationery checklist, to tell you what you need, when you need it, and how far from your wedding date you should get organised with it. Let's dive straight in, shall we?
Your Pre-Wedding Stationery Checklist:
These items are the letterbox lovelies your guests receive to get them excited about your wedding day and give them all the information they need before they attend.
Save The Date
Where on the wedding stationery timeline? 12+ months until the big day
A save-the-date is usually a single card sent out a year or more ahead of your wedding date, announcing your wedding and giving your guests a heads-up to literally save your date in their diaries! You can keep this really simple and just include your date and venue, but you don't need to add details as the invitations will do that further down the line.
Why you might need these:
Save-the-date cards are popular if you're having a wedding that people may need to make specific plans to attend. For example, if it's a destination wedding your guests need time to book holidays and make travel arrangements, and if your date falls within busy times of year such as Christmas or summer holidays they will appreciate the advance notice! Your guests will more likely be available if you ask them to save the date well ahead of time.
Simple though they may be, save-the-date cards are the very FIRST impression your guests will get of your wedding – I recommend getting in touch with a stationery supplier as soon as your date and venue are confirmed, so that every element on this checklist comes together to create a stylish stationery suite. Click here to book a consultation with me.
Wedding Invitations
Where on the wedding stationery timeline? Typically 8-10 weeks ahead of the big day
This is it! Once those invitations start landing on doormats, it's only a matter of time before RSVPs start arriving and it truly becomes real that your friends and family are coming to see you get married! Your invitations need to include all the details your guests will need to attend and enjoy the day with you – venue address, options for accommodation should they want to embrace the party and stay overnight, instructions for RSVPs, dietary requirement requests, dress code…sounds like a lot to put on one piece of card, right? It's not uncommon for couples to send little bundles to their guests (packaged beautifully in custom card sleeves with personal details, of course!) containing separate items – an invitation for them to keep, an RSVP & dietary slip to return to you, and travel or accommodation information presented beautifully on another card.
Although generally you would send invitations 8-10 weeks ahead of the wedding, when you work with me I always aim to complete them 12 weeks in advance. This ensures we have loads of time and the whole experience is completely stress-free for you. Click here to read more about my process!
Your On-The-Day Stationery Checklist:
Your on-the-day stationery is everything you will use to show your guests where to go and what to expect when they arrive at your wedding. The items listed aren't all compulsory, and can all be adapted to your personal plans! I typically start the on-the-day stationery process 6-8 weeks from the wedding date, so we have plenty of time and a stress-free experience.
Order of Service
Where on the wedding stationery timeline? During the ceremony
An order of service is typically used for a more traditional church service or wedding mass, containing hymns and readings for guests to follow along with and an outline of timings for the service. If you're having a non-religious service you can opt for a more informal version of this, tailor-made to suit your day. A great example of this is the fun, story-style order of service I created for one of my couples, Jack & Hannah – their wedding was in Cyprus and their stationery was full of personality and bespoke elements!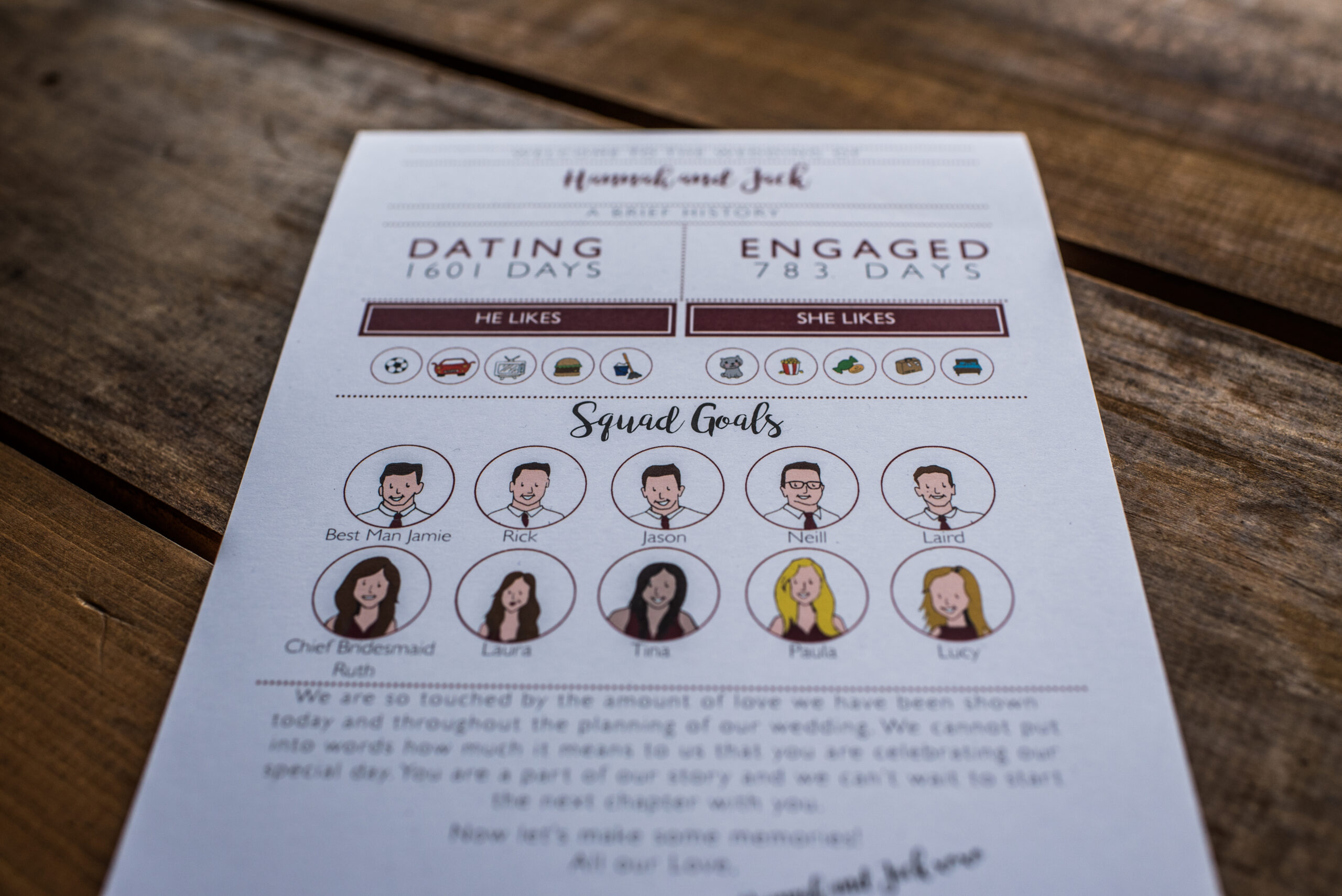 Order of service cards can be really lovely mementos from the day; they're so personal and will remind you and your guests of the intimate, meaningful ceremony you had.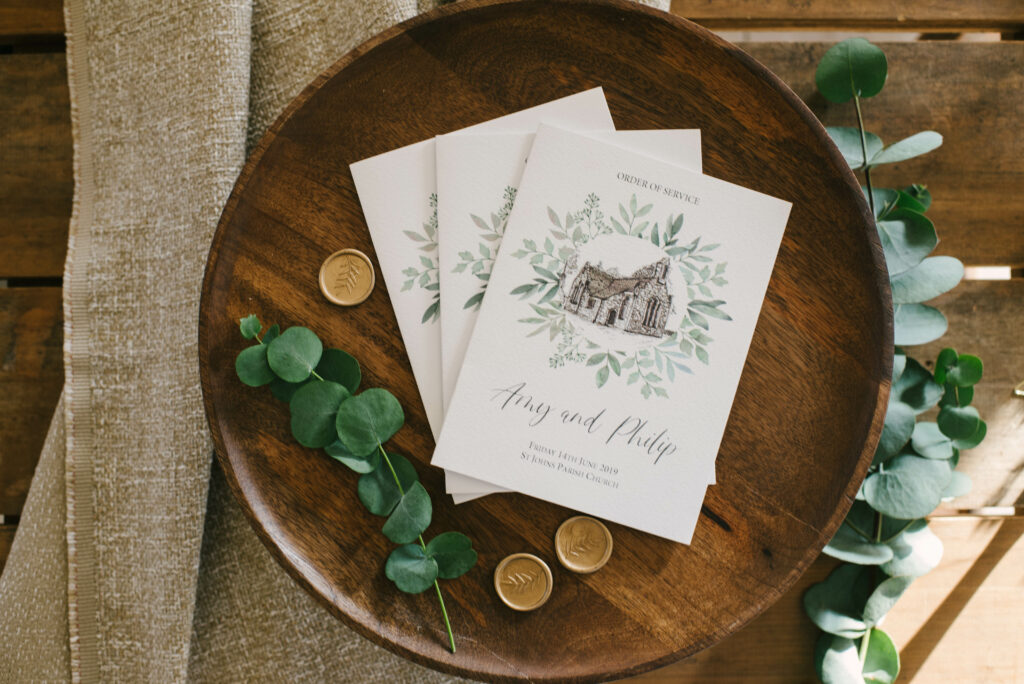 Welcome Signs & Table Plans
Where on the wedding stationery timeline? On arrival at the reception
Welcome signs and table plans have endless design options, and as well as being functional they can really tie in with the decor of your venue and add fun vignettes and focal points to your space! They're available as printed boards, painted signs or fabric banners and can really be tailored to your personality and ideas for your wedding. Couples often opt for signage encouraging guests to turn their phones off throughout the ceremony, or do away with traditional bride/groom family seating on the aisle! Table plans can come in many forms, some more elaborate than others, and they serve to tell your guests where they will sit at the reception and make a stylish addition to your decor when themed to the rest of your wedding!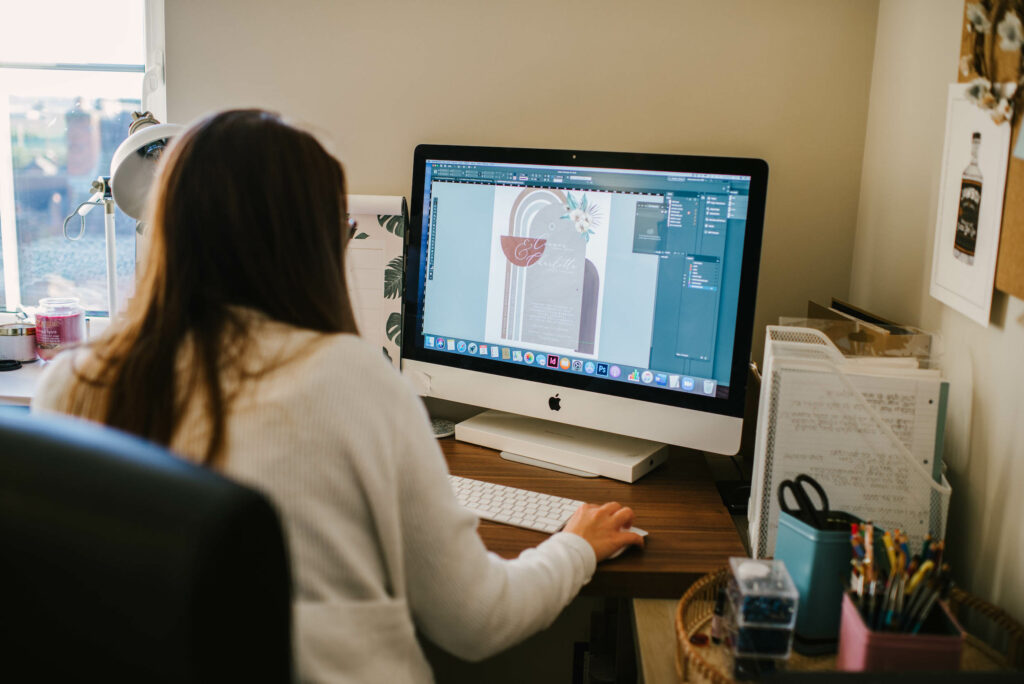 Table Stationery
Where on the wedding stationery timeline? When your guests sit down at the reception
Your table stationery includes place settings such as name cards, menus (individual or for the whole table) and table numbers or names. All these items serve a purpose in terms of telling your guests where to sit and what they'll be eating, but they're also part of the styling of your table settings. Having great table stationery that matches the rest of your suite can really elevate your wedding design – talk to your stationer and venue stylist if you're using one, and see how they can collaborate to make the whole thing perfect!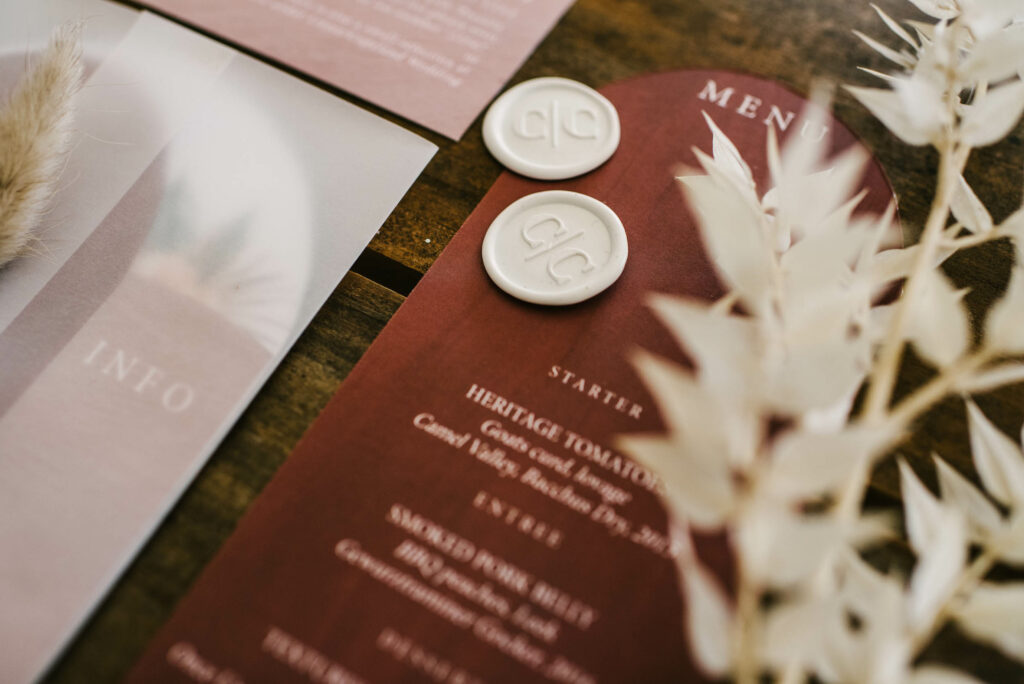 Post-Wedding Stationery Checklist:
Yes, really!
Thank You Cards
Where on the wedding stationery timeline? A couple of weeks post-wedding, or after your honeymoon
Once your wedding day is over you'll have some amazing memories to look back on, and probably a big pile of cards and gifts to go through! You might want to formally thank your guests for their attendance or their kind contributions to your future, and thank you cards are a great way to do this. They can form part of your stationery suite and stylistically match the other paper goods your guests may have kept (save-the-dates and invitations!), so they can make a little keepsake bundle from the special day you shared. Make thank you cards your own by using a photo from your wedding day and adding personal messages.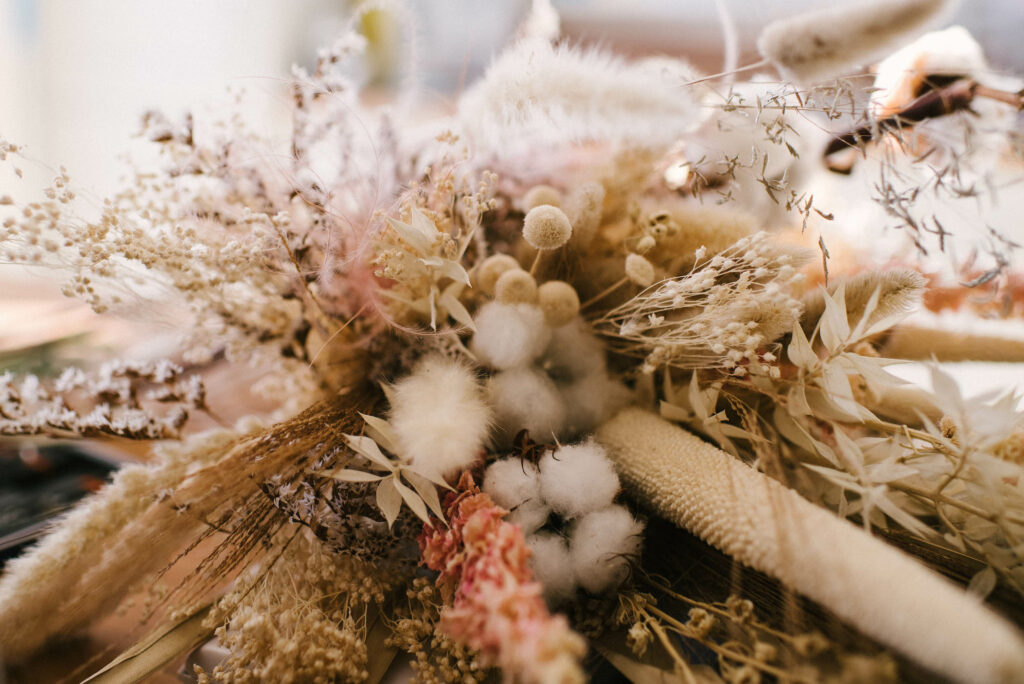 That concludes your wedding stationery checklist and timeline! Now you know what you'll need and when, and the biggest tip I can give you is to get your stationery provider on board right from the start! Having your entire stationery suite created by the same person makes it all cohesive which can have a huge impact on the style and feel of your day, and your supplier will get to know you along the way and be genuinely invested in your wedding. Would you like to order a sample pack from me so you can look, feel and compare options for your paper pretties? Click here!
I hope you found this useful, and I'll be back with more wedding & stationery planning tips and advice next week!