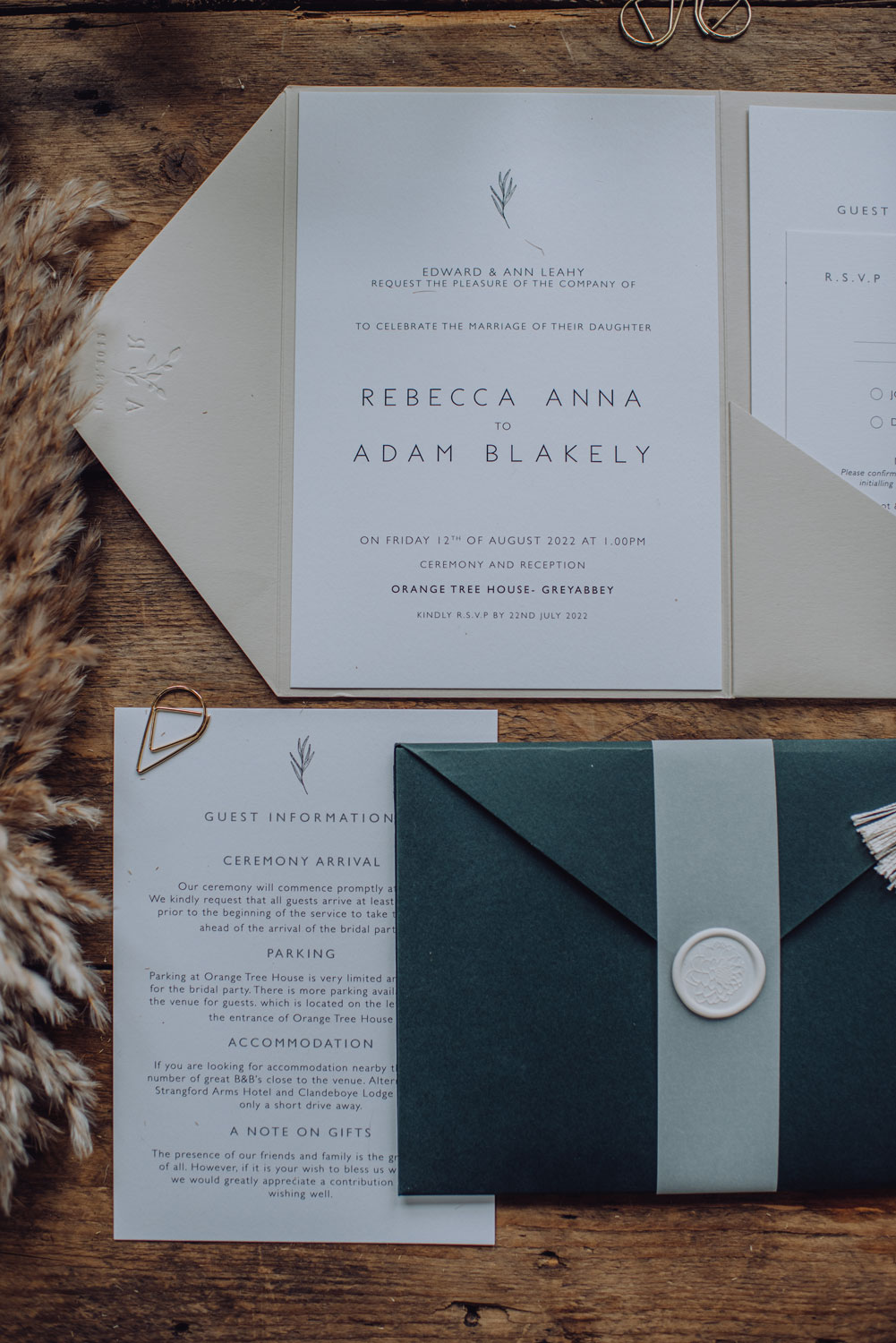 Modern, minimal, and graceful, the Margot suite comprises sleek digital print on a luxe card stock for couples looking for a contemporary and minimal style without compromising on sophistication. 
Pictured with a soft neutral palette we recommend pairing with a pocket fold and vellum band for the ultimate first impression. See price guide for all finishes.
Invitation – A5 148mm x 210mm
Information card – 130mm x 178mm
RSVP card: A6 105mm x 148mm.    
From paper colours to print finishes, you can customise our Margot suite to perfectly compliment your wedding day. Click the link below to browse through our design guide, which is full of all the options available, before completing your enquiry form.
If you would like to see a selection of samples before ordering you can order a sample pack here.
Browse our collections and have a look through the design guide to help find a design that fits with the style of you and your wedding day. If you would like to see any designs in person you can choose to order a sample pack before placing your order to feel the quality and finish first hand.
Found 'The One'! Simply complete the enquiry form below confirming your order quantities, customisations and finishing touches. We will be in touch within 48 hours* with your custom quote.
From this quote you can accept and pay your invoice without any further steps! It is super simple!
Once your deposit is received, you will receive 
a questionnaire from us to get all the specific wording and details to start your design. This is a super important step, so we give you plenty of time to complete and return to us before we start your design. 
I am always on hand to support you if needed!
When your questionnaire is returned to us and we have everything we need, the design will start! 
I will guide you through 2 stages of revisions to ensure the customisations have been completed correctly and you are happy with your design. 
This process typically takes between 4-6 weeks depending on your customisation options and how quickly you provide your feedback at each stage.
The exciting bit! Once your proofs are approved, you will receive a final print proof of your design to sign off on before everything is sent to print.
Depending on your choices these will either be packed up and sent to you for assembly, or I will complete this stage and send your invites all assembled and ready to be posted out to your guests!
From receipt of your deposit and completed questionnaire we aim to design, assemble and deliver all semi custom stationery within 4-6 weeks. If your order is urgent please let us know and we can arrange a rush order for a small additional fee.
* 48hour timeframe is subject to our opening hours 10am - 4pm Monday - Friday.
Excludes weekends, bank holidays and any other holidays.
* Full terms and conditions will be provided prior to a project starting which will outline the process should something unexpected arise or timeframes not be met.
If Margot is ticking all the right boxes for you, then I would love to hear from you! Complete the enquiry form below and I will be in touch soon!
Can I order in Advance?
The turn around for completion of any collection suite is 4-6 weeks from receipt of your completed questionnaire. We recommend ordering around 6 months before your wedding. If you prefer to have something booked further in advance, our bespoke service may be of interest which will allow you to secure your stationery booking up to 18months in advance.
Is there a minimum order quantity?
Yes, the minimum order is 25. 
Do you have matching stationery available?
Of course, a full range of matching stationery is available for every suite from save the dates to on the day stationery we have you covered!
Can I see a sample before ordering?
We recommend ordering a sample of or your preferred invite to see and feel the quality and finish. You can order these individually or order a sample pack with multiple examples from our shop here.
Can you rush an order?
Depending on our availability and schedule at the time of your order we may be able to accommodate a rush order. This will be subjected to an additional fee.
What Delivery Method do you use?
Our standard delivery method is Royal Mail tracked delivery. Please let us know if you would like to discuss alternatives
What can I customise?
Our studio collections allow you to customise the paper, print finish and colour scheme of any design. You can also add a variety of additions to any order to give even more options. You can see a full range of options in our design guide.
What payment methods are available?
Our preferred method of payment is via bank transfer. All payment details will be provided on your proposal and invoice upon booking. Please contact us to arrange an alternative method of payment.